*Please note. All Events at Zeb's Wish require RSVP or are by appointment only unless otherwise stated. "drop-ins" are not permitted at Zeb's Wish due to us being a volunteer-run organization without full-time staff.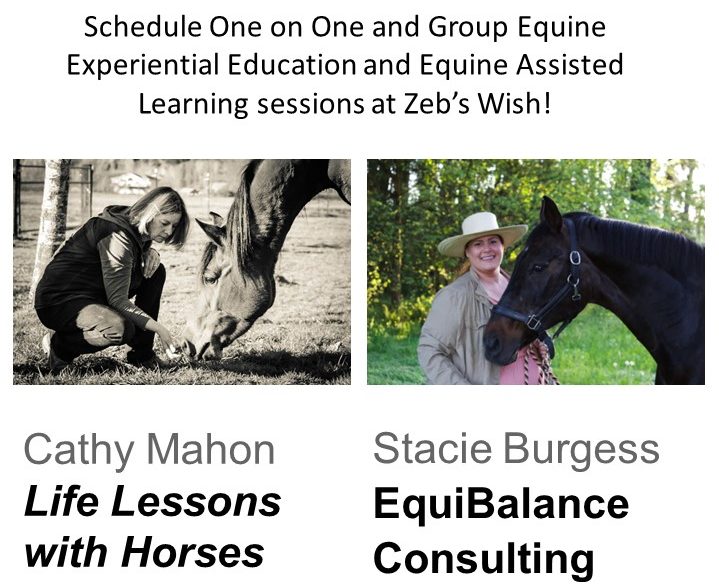 Zeb's Wish Equine Sanctuary
34950 SE Colorado RD Sandy, OR 97055
The above professionals regularly conduct Equine-assisted activities at Zeb's Wish in our Arena and with the Herd. Book one on one and group activities with them directly to experience firsthand the power that Equines can have as teachers.
Cathy Mahon
, founder of 
Life Lessons with Horses
 is a dedicated teacher, facilitator and coach. Using Equine Experiential Education, she guides and encourages you to discover your true self through your interactions with the horse, all while keeping an important measure of safety as the number one priority.  Cathy does individual coaching and learning sessions as well as small group workshops.  Learn more at 
https://lifelessonswithhorses.com/
. Contact: 
[email protected]
Stacie Burgess
is the owner of 
EquiBalance Consulting
. She is Collaborative Problem Solving Tier II trained. She's also certified by the Equine Assisted Growth and Learning Association and has attended fundamentals training in Trauma Focused Equine Assisted Psychotherapy with Natural Lifemanship. Stacie offers individual and groups sessions in Equine Assisted Learning and often works in teamwork with Russell Chamberlain(above) to conduct Equine Assisted Psychotherapy. Contact Stacie to learn more. 
[email protected]