Zeb's works with a variety of animals with varying needs. Some of them come to us and live out their days at our Sanctuary. Others are able to come to us, get the care they need, and then look forward to starting a new chapter in their lives. The animals below are ready to move onto their next great adventure and are available for adoption.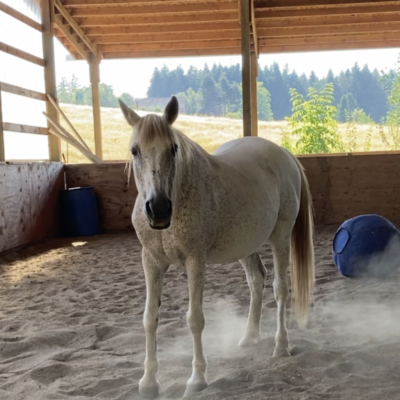 Merlin (Merle) is a 20 year old Arab cross who came to Zebs Wish with his sister Leona in February 2022 after suffering from years of neglect and very little handling. Since then he has excelled in his positive reinforcement lessons and has gone from mostly unhandled to a serious cuddle bug! Merle is good about being haltered, fly masked and led, he will load into a trailer, and is coming along well with his foot handling. Merle has REALLY excelled with positive reinforcement techniques and loves to play games and learn new things in this newly expanded world of his!  Merle is an eager and A-plus student!
Mr Merle is a healthy and happy boy who requires no special care.  He is the first to greet you in the morning and will warm your heart with his sweet and happy demeanor. Merlin will do best in a home where his new family will help him to continue his love of learning and will be understanding of the fact that gentle guidance is his love language.
If you are looking for a great friend- you will have one in Merlin!
Merlin's adoption fee is $900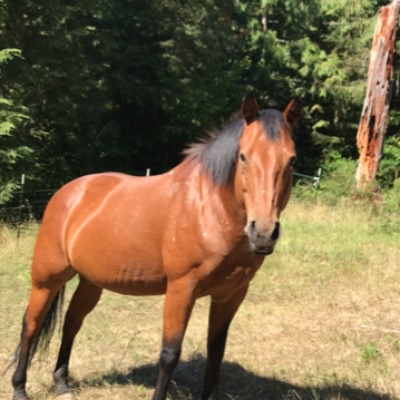 Blaze is a beautiful 24 year old flecked (birdcatcher spots) small draft cross who started her life as a PMU (Pregnant Mares Urine) mare in Canada. Blaze came to Zebs Wish in 2021 when her owners could no longer care for her. Given her many years of producing foals and having them taken from her, she is understandably a little aloof.  She is easy to handle, and has been very sweet to her foster friend.  Blaze is a little portly and would do well with limited grazing time. She is a very sweet and solid citizen and would make a wonderful companion for a riding horse as she tends to be quite solid when her friends come and go.
Blazes adoption fee is $900